Keeping Your Free Account Active
---
Free accounts take up hardware resources. It costs money and also affects performance of other users. While we are happy to see teams benefit from our free plan, we do not want wastage. That's why we clean up inactive free accounts regularly.
Everyday your free account will be checked to see if it has less than five (5) results created in the prior 90 days. If yes, your account is considered dormant and deleted.
This requirement is liberal and intended to delete only inactive accounts. For a QA team, adding 5 results in 90 days should be quite routine. If you use the software regularly, you should have nothing to worry about.
If you do not use Tuskr regularly, please subscribe to our paid plan to avoid the inconvenience of adding results. Accounts on paid plans are never deleted.
Examples:
Let's say that your team added a result 10 days ago, 20 days ago, 30 days ago and 40 days ago, 50 days ago, 60 days ago, etc. You account will be considered active since your account has more than 5 results in the last 50 days.
On the other hand, let's say that your team added a result 10 days ago, 30 days ago, 60 days ago and 70 days ago, 100 days ago, 120 days ago, etc. In this case, the system would find only 4 results in the last 90 days and hence your account will be deleted.
How to view your the dormancy date
As you add results, your free plan will be automatically extended if you satisfy the requirements mentioned above. You may have to wait up to 15 minutes to see the updated date.
Go to Main Menu ▸ Administration ▸ Subscription to view the date your plan is valid until as shown below. The plan expiration date is the date on which your account will be deemed to become dormant.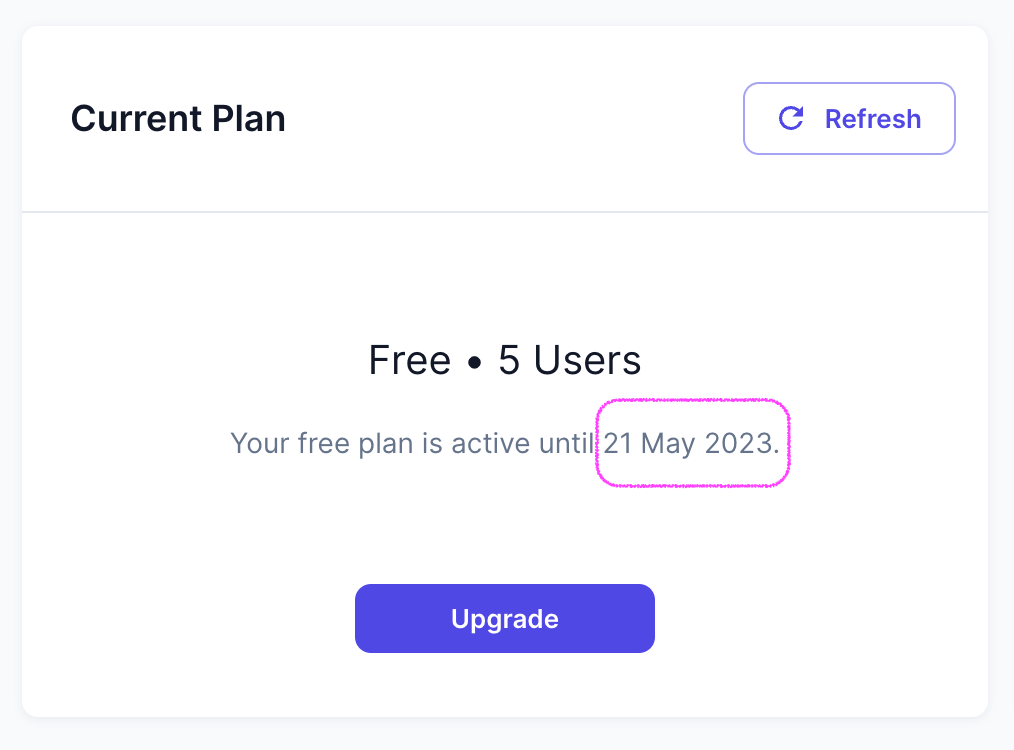 How we alert you about dormancy
You are responsible for monitoring your account and ensuring that your account meets the conditions outlined above. We'll help you in this process.
From 15 days prior to your account becoming dormant, your users will start seeing a warning after they log in the application.
We also send out warning emails 15 and 5 days before the scheduled account deletion to your primary contact and admins so you can take the appropriate actions. However, please be aware that despite all the precautions we take, emails can still land in your spam mailbox or simply not be delivered.
If the work you have in Tuskr is important to you, we strongly suggest that you sign up for a paid plan. It is very affordable and will ensure that your data is safe.
---